Springfield Music Club
Jazz and Blues Festival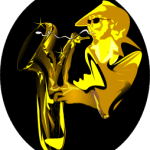 Every October
About
The Springfield Music Clubs holds an annual Jazz-Blues Festival for music students in Northern Virginia. This festival is a fun opportunity for students to studio the jazz-blues idiom and keep students occupied during the summer months. Students of all ages and levels get to perform in a non-competitive setting and receive feedback from other piano instructors.
Festivals are not competitions. Students are judged based solely on their own performance and their own music. (Even when someone play the same piece!) The ratings that each student receives is based on how well a particular follows the composer's directions. This includes many things like dynamics (remembering to play soft at the end instead of loud) or rhythm (being careful to hold all half notes for two beats). This festival only has three ratings: Superior, Excellent, and Very Good. Students that receive a Superior Plus from both judges can play in the Honors Recital. A Superior Plus from both judges is rare, with 5-10% of participating students receiving this score. Participating students also receive a special pin for participating. And, a percussionist normally volunteers all day Saturday to play with individual students after they have finished playing at their assigned times. This is a wonderful, experience for all the students.
Locations
The Jazz-Blues Festival is held at Bethlehem Lutheran Church which is located in Fairfax, VA. Students are assigned a specific performance time and must stay for the entire hour to listen to other students.
Dates
Normally on the last Saturday of October.
Fees
The recital fee is $18 per student. For students performing ensembles, the fee is $15 per student.
Requirements
Participants perform two pieces by memory, which may be arrangements. One piece may be an original composition. All pieces must be sixteen measures or longer. Students may improvise an introduction or a coda.
Links
Jazz-Blues Application Form
Jazz-Blues BLANK Judging Sheet
Listen
Student Compositions
Teacher Compositions
Coming Soon!