Springfield, Virginia
Sonatina Festival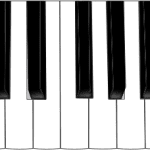 Every May
About
Students of MEA Piano Studio participate in the annual Sonatina Festival for music students in Northern Virginia. This festival is a fun opportunity for students to study classical music in the form of Sonatinas. Students of all ages and levels get to perform in a non-competitive setting and receive feedback from other piano instructors.
Festivals are not competitions. Students are judged based solely on their own performance and their own music, even when someone plays the same piece. This festival has two ratings: Pass or Fail. Students that pass receive a special trophy based on their years of participation. In order to pass, students must follow all of the "rules" listed below.
Location
The Sonatina Festival is held at First Baptist Church of Springfield which is located in Springfield, Virginia. Participating students are assigned a specific performance time and must stay for the entire hour to listen to other students. Students may choose from any of the time blocks listed below (specific times can't be chosen, only time blocks). Students are also required to stay for the entire assigned hour.
Time Blocks
Friday Evening – 6 pm to 9 pm

Students are assigned to play during at 6 pm, 7 pm, or 8 pm.

Saturday Morning

Students are assigned to play during at 9 am, 10 am, or 11 am.

Saturday Afternoon

Students are assigned to play during at 1 pm, 2 pm, or 3 pm.
Dates
Normally on the first weekend of May.
Fees
The festival fee is $25 per student.
Rules
Important!!!!! If these rules are not followed students will "fail" the festival and will not receive their trophy!!!!!!
Participants may perform one or two movements from the same Sonatina.
All music must be memorized.
Each movement must be twenty measures or longer.
No Xerox copies or computer generated music.
The sonatina must be commercially published.
Links
Sonatina Festival BLANK Judging Sheet
Sonata and Sonatina Music List
Students may choose from any of the sonatinas listed below. Students are divided into three levels, Level 1, Level 2, and Level 3.
Level 1 Sonatina Music List
A First Sonatina By Adams
First-Time Sonatina by Kern
Sail-Away Sonatina by Strickland
Sonatina in C by Duncombe
Level 2 Sonatina Music List
Sonatina in C by Haslinger
Sonatina in C by Latour
Sonatina in C by Vanhal
Sonatina in C by Clementi
Level 3 Sonatina Music List
Sonata in C by Mozart
Moonlight Sonata by Beethoven
Sonata by Khatchaturian